University of Koblenz-Landau award for digitally supported apprenticeship at the Koblenz Campus
In a close vote, the members of the Steering Committee selected two joint first places for the award: Jeanine Krath convinced the selection committee with her seminar "Gamification and gamified systems" through an elaborate didactic concept and an appealing implementation of a gamified learning environment. JProf. Fabian Wolff and Lea Wickord used telepresence robots to integrate learners who are not physically present in their RoKoNairo seminar and, in addition to the digital skills of the participants, also strengthened their intercultural skills through the cooperation with two African universities that was made possible in this way. Second place went to Prof. Dr. Jens Oliver Krüger's concept of a lecture that combined face-to-face lectures with digitally asynchronous educational films with a reportage character that successfully illustrated the subject matter.
The campus representative for studies and teaching, Prof. Dr. Constanze Juchem-Grundmann, as chairperson of the Steering Committee, presented the certificates for the university prize to the award-winning teachers, which was now awarded for the last time as a prize of the University of Koblenz-Landau. For the start into independence, the former campus representative and future vice president for studies and teaching of the University of Koblenz announced to continue the good tradition of awarding teaching prizes for special commitment in teaching in the coming years.
The applications for this year's university award for digitally supported teaching showed a wide range of didactic concepts that make digitization useful for teaching. From game-based learning to flipped-classroom concepts or the integration of digital learning tools into classroom teaching to the use of robots in hybrid teaching-learning scenarios, the submissions testified to a great diversity and innovative strength at the Koblenz campus.
Digitization in university teaching has become standard overnight as a result of the Corona pandemic. In the first attendance semesters after the corona-related restrictions, it is now crystallizing which insights and experiences remain and which digital elements offer real added value in teaching.
About the University Award for Digitally Supported Teaching at the University of Koblenz-Landau.
In order to honor teachers who lead the way with meaningful concepts for the use of digital elements in teaching, the University Award for Digitally Supported Teaching, endowed with 500 euros, has been awarded in recent years by the Vice President for Studies and Teaching of the University of Koblenz-Landau, Prof. Dr. Gabriele Schaumann, and by the Higher Education Didactics Office (HDA) of the University of Koblenz-Landau. In the past two years, the award winners were selected by the Koblenz Steering Committee for Studies and Teaching.
Further information:
Short presentation on the seminar "Gamification and gamified systems":
https://cloud.uni-koblenz-landau.de/s/Dy8M5GZ2LGtPrTg
Short presentation on the seminar "RoKoNairo":
https://cloud.uni-koblenz-landau.de/s/KFfDdNd2rszASWF
Short presentation lecture Prof. Dr. Jens Oliver Krüger:
https://videoakademie.ko-ld.de/Panopto/Pages/Viewer.aspx?id=dac30565-5807-46fd-891a-af650096704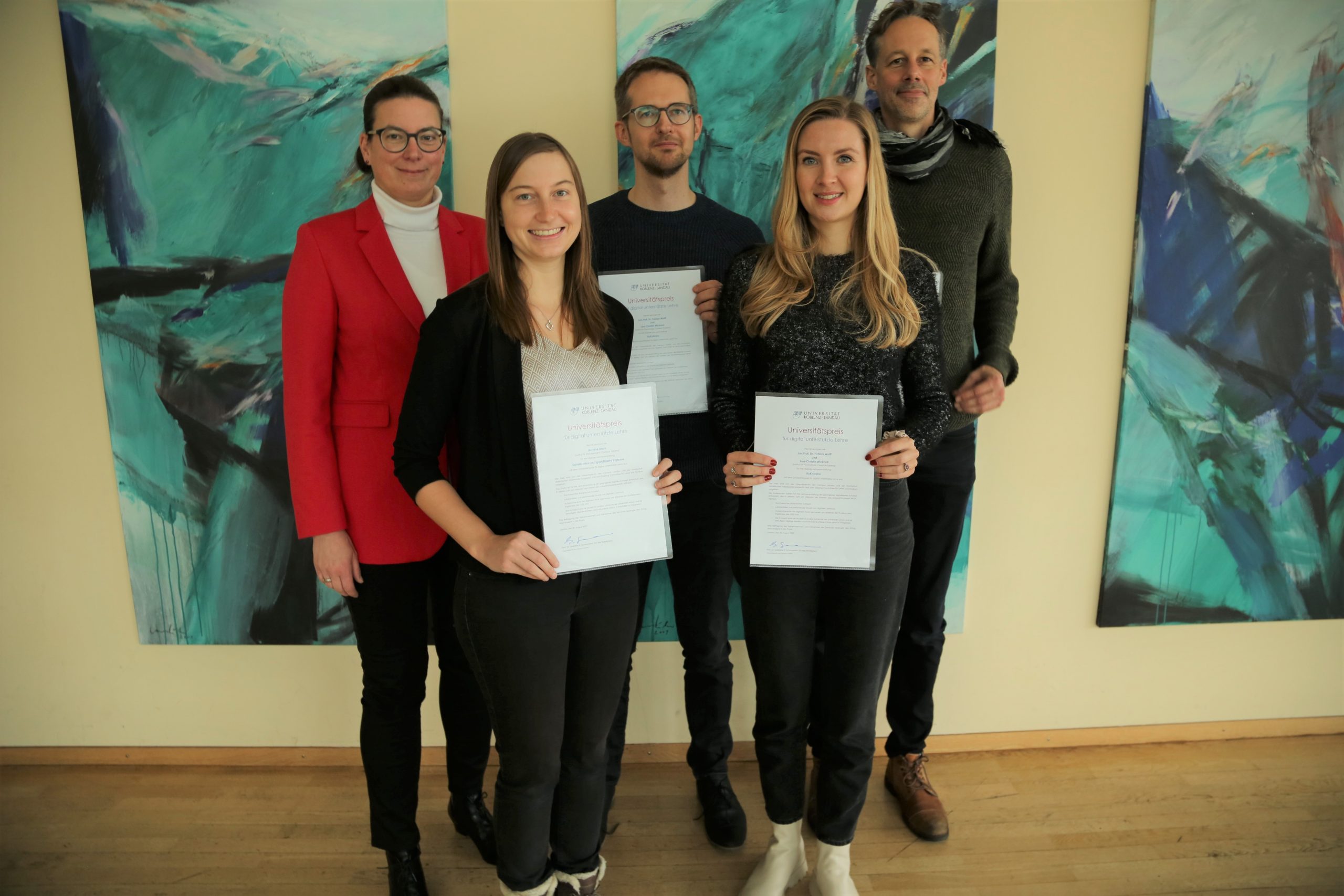 Bild: Universität Koblenz